News Archive
For Archive 2015 - Please Click Here
For Archive 2013 / 14 - Please Click Here
This page contains a number of links to news items we highlighted in 2016 / 17. Please scroll down to see more information.
Mars Rover Tests in Atacama Desert
Image credit: NASA/CampoAlto/V. Robles
Second Mars Rover test series is completed in possibly
the driest place on Earth, to approximate conditions on
Mars. The team spent a month collecting scientific data
on life found in the desert today. More info
Moon Enceladus May Have Liquid
Enceladus with fractures at the south polar region.
Credit: NASA/JPL-Caltech/Space Science Institute
The bright, ice-covered Saturn moon should be too
small and too far from the Sun to be active. But
Enceladus is one of the most geothermally active
places in the Solar System
Astronomers Find 7 Earth-Sized planets
Three are in the Habitable Zone !
Northern Lights Fading From the UK?
Image: Chris Brown (Shetland)
Scientists at Reading University find that UK may
'lose' the Northern lights by the middle of this century
due to changes in solar activity. They predict that an
imminent 'solar minimum', which is part of the Sun's
natural cycle, will cause the Sun's 'atmosphere' to
shrink by a third. This would lessen Earth's protection
from cosmic rays and solar radiation and would also
reduce the solar wind which makes the northern
lights visible in areas outside Earth's polar regions
Chinese to Launch Lunar Sampling
China state media reports that a planned robotic
mission to return samples from the lunar surface
will launch in November. This would be the first
such mission in four decades. The mission will use
China's new heavy-lift Long March 5 rocket.
Oxygen from Earth Travels to the Moon
Image: JAXA / NHK
Analysis of data from the Japanese lunar orbiter Kaguya
suggests that oxygen is transferred from Earth to the
Moon for 5 days in every lunar month.
Astronauts' Brains Change Shape in Space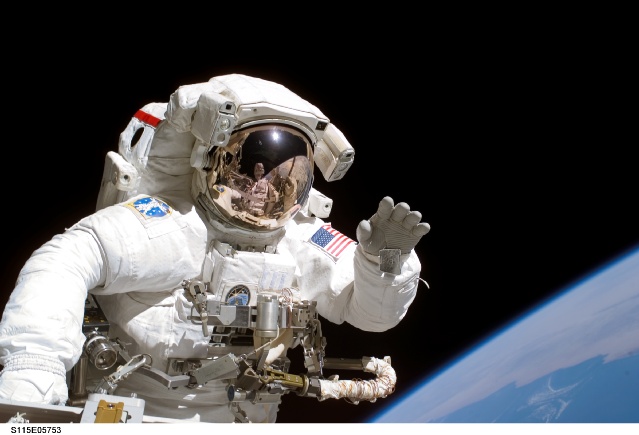 Image: NASA
A new study by the University of Michigan reveals that
astronauts' brains compress and expand during space
missions. Findings may lead to new ways of thinking
about certain health conditions on Earth.
In a bid to claim $20 Million in prize money for landing
on the Moon, the US-based Moon Express team has
already built a lunar lander and booked space on an
experimental Electron rocket. Now, with sufficient
funds in place, the team will soon have a real chance
to launch its first record-breaking attempt
Remembering the Last Man on the Moon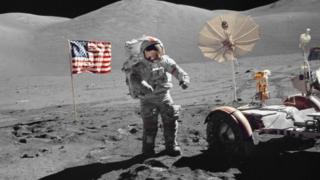 Image: NASA
Eugene Cernan, the commander of the Apollo 17 mission
and last astronaut to walk on the Moon, has died aged
82. "We leave as we came, and, God willing, we shall
return, with peace and hope for all mankind."
Cernan's words on leaving the Moon.
Read NASA's tribute here...
Bulge Seen in Venus' Atmosphere
Image: JAXA/Taguchi et. al., 2017
Astronomers are still trying to explain a massive  'bulge'
seen in the upper atmosphere of Venus. Their best
guess is that the 10,000 km structure was caused
by the largest gravity wave ever seen in the Solar
System - but only if gravity waves can form this high
in the atmosphere
Trump to scrap Nasa climate research
Image: NASA Scientific Visualization Studio
Trump announces plans to scrap Nasa climate research in
crackdown on 'politicized science'. Funding will be used to
explore of deep space, with a goal of exploring the entire solar
system by the end of the century.
Gravitational Waves: Breakthrough
Dr. Kip Thorne of Caltech © Gary Cameron / Reuters
Summary: Some of the Best Astronomy
Recap of some of the best astronomy news in 2016...
Comet 45P Visible from New Years Eve
Image: Comet 45P as it looked when it last passed Earth:  NASA / JPL
Comet 45P/Honda-Mrkos-Pajdusakova will be
visible in the night sky in January / February
2017. The comet is a regular visitor to the
inner solar system and was first discovered
in 1948. 47P is best viewed with binoculars
or a small telescope
Image: NASA
See a selection of some of  NASA HQ's favourite
images from 2016
This new image from NASA's Mars Curiosity Rover
shows purple-coloured rocks on the surface of
lower Mount Sharp ( Mars )
Could YOU Be an Astronaut?
December 2016
Are Silica Formations Evidence of
silica formations on the Gusev crater on Mars, image taken by 'Spirit'  in 2008.
NASA/JPL-Caltech
Silica formations on Mars are similar to those found
in the Chilean desert and may have been caused
by microbial life
The Effects of Running Water on the
Image credit: William Dietrich / University of California Berkley
A new study suggests that  climate cycles on early
Mars may help us understand the effects of liquid
water on the planet's surface
Large Ice Sheet Discovered on Mars
Image credit: NASA/JPL-Caltech/University of Arizona
Mars Reconnaissance Orbiter discovers sheet of
ice under the Martian soil -  the size of New
Mexico and 260 to 560 feet thick
Could YOU Be an Astronaut?
First Observations of Solar Wave
New sunspot observations may help scientists
explain why the Sun's corona is hotter than the
region below
Galactic Cannibal captured by Hubble
Image credit: ESA/Hubble & NASA
Astronomers think that galaxy NGC 1222 is 
swallowing two smaller dwarf galaxies that came
too close to it and that this could have triggered
the starburst seen in the image
GRAPES-3 Shows Temporary Crack in
credit: NASA
Scientists report that the GRAPES-3 Muon telescope
recorded a burst of cosmic rays that indicated a
crack in the Earth's magnetic shield in June 2015
November 2016
Image: ESA
4 Minutes and 41 seconds into its descent to Mars,
Schiaperelli's shield and parachute ejected ahead
of schedule. Was a software error to blame?
What Went Wrong with Schiaperelli
Image: ESA Schiaperelli with deployed parachute
Data from Schiaperelli's descent in the Martian
atmosphere has been successfully received and is
currently being analysed. ESA reports that most
steps in the 6 minute descent were completed
successfully. The soft landing was unsuccessful
and ESA engineers are working to find out why
image: ESA  Schiaperelli probe seperation whilst approaching Mars
October 2016 is Open University's Space Month
culminating in the arrival of TGO at Mars and the
landing of Schiaperelli on 19th October
Schiaperelli Mars Landing Visualised
Visualisation of the ExoMars Schiaparelli module entering and descending
through the martian atmosphere (ESA)
ESA's robotic probe, Schiaperelli, is due to
separate from its orbiter this coming Sunday
and should land on Mars three days later
(19th October).  This would be Europe's first ever
successful landing on Mars. The probe will
monitor conditions on the surface and test
technology for ESA's ExoMars rover, which
is expected to launch in 2020.
Meanwhile, the Trace Gas Orbiter will 'sniff'
the planet's atmosphere for methane.
A detailed description of the mission is available
Meteoroids Hit the Moon More Often
Image: NASA   Buzz Aldrin's bootprint on the Moon - July 20, 1969.
Observations by NASA's Lunar Reconnaissance
Orbiter suggest that our Moon is bombarded by
more small meteoroids than predicted. This
means that any future lunar base will need to be
much sturdier than thought. Tracks left by
astronauts will be gone in tens of thousands of
years rather than millions...
Juno's Main Rocket Burn Delayed
Credits: NASA/JPL-Caltech/SwRI/MSSS
The main engine burn which was due to
change Juno's orbital period from 19 October
has been delayed. This will allow NASA to test
engine valves that were not performing
as expected.
Universe May have 2 Trillion Galaxies
Image: Hubble Telescope
A new 'census' estimates that the observable
universe is home to about 2 trillion galaxies,
increasing the previous estimation by a factor of 10
Rosetta sends final image 20m above her comet,
5 seconds before a controlled crash landing
which ends her 12 year mission
Image: NASA. Twin peaks on Mars
SpaceX founder announces goal to 'make life
interplanetary' by 2022 and reveals plans for
reusable spaceship
September 2016
Rosetta Grand Finale Announced
Image credit: ESA
ESA announces that Rosetta will descend to the
surface of its comet on 30 September to end its
mission. More details here...
The last panel of the Fast telescope installed in July. Photo: China Daily/Reuters
Possible Water Plumes on Europa
Composite images from the Hubble Space
Telescope show possible water vapor
erupting from the surface of Jupiter's moon
Europa.

NASA's OSIRIS REx has launched successfully
and is heading towards a Near-Earth asteroid
(Bennu) where it will collect samples and
bring them back to Earth to study
Rosetta's high resolution camera has revealed
Philae's position on Comet 67P/Churyumov–
Gerasimenko: wedged in a dark crack. The site
A SpaceX rocket has exploded on the launch
pad whilst test-firing ahead of its launch. The
blast shook buildings several miles away
Ceres Probably Has Ice Volcano
Ceres mountain Ahuna Mons. Image width is 30 kilometers.
Credit: NASA/JPL-Caltech/UCLA/MPS/DLR/IDA
Observations by NASA's Dawn spacecraft
observations indicate that "ice volcanoes"
have erupted on the dwarf planet in recent
times. Its crust is a mixture of ice and rock
never observed before
'Alien Signal' from Earth After All
RATAN-600 radio telescope in Northern Caucasus. Credit: SAO RAS.
Mysterious signal detected by Russian radio
telescope last year is 'most probably' of
terrestrial origin
Rosetta Captures Comet Outburst
Rosetta unexpectedly captured a comet
outburst, possibly triggered by a landslide.
Nine instruments, including cameras, dust
collectors, gas and plasma analysers, were
monitoring the comet at the time. Analysis
has reconstructed the chain of events
Juno Spaceprobe Completes First
Jupiter on August 27, when Juno was 437,000 miles (703,000 kilometers) away.
Credit: NASA/JPL-Caltech/SwRI/MSSS
Image Credit: NASA/JPL-Caltech
A small asteroid has been discovered that has
been orbiting Earth for almost a century and
may remain our distant companion for
centuries to come
image credit: ESA
The interface used to communicate between
Rosetta and Philae is switched off as Rosetta
nears the end of her mission
August 2016
What Lies Beneath Ceres' Surface?
Artist's Impression: NASA/JPL-Caltech/UCLA/MPS/DLR/IDA
Scientists create map of the dwarf planet's
gravity that gives clues about Ceres' inner
structure
ESA Commits to SABRE Rocket Engine

The Synergistic Air-Breathing Rocket Engine
(SABRE) uses atmospheric air in the early
stage of its flight and, if successful, the
design could lead to 'single-stage-to-orbit
spaceplanes' in the future. SABRE was 
designed by the UK's Reaction Engines Ltd.
Test firings could begin in about 4 years time.
World's Largest Telescope is in China
The FAST telescope. Credit: EPA
The spherical radio telescope (FAST) in
south-west China was completed on 3 July
and is 500m in diameter.
The Arecibo telescope in Puerto Rico is
305m across. FAST can track objects for
longer and is expected to be twice as sensitive
and have 5 to 10 times the surveying speed
of Arecibo
ESA Astronauts in Cave Mission
image credit: ESA
Six astronauts from China, Japan, USA, Spain
and Russia recently re-emerged after
spending six nights underground to simulate
a mission exploring another planet.
Each 'cavenaut' was assigned a role for the
expedition, which tested techniques that
could be used in exploring other planets.
Mars 2020 Rover's Final Design

Image Credit: NASA/JPL-Caltech
The latest rover will be launched in 2020 on a
mission to investigate a Mars region thought
to have been favorable for microbial life.
'The Mars 2020 rover is the first step in a
potential multi-mission campaign to return
carefully selected and sealed samples of
Martian rocks and soil to Earth'
July 2016
NASA space probe enters the planet's orbit
after a 5 year journey. Scientists hope to learn
more about Jupiter's atmosphere and interior
June 2016
NASA Tests Huge Mars Rocket in Utah
Photograph: ZUMA Wire/REX/Shutterstock
Two minute ground test for solid rocket
booster. The 47m long booster was mounted
horizontally and produced 3.6m pounds of
thrust
Brexit - Will UK Be Forced Out
China's Space Programme Becoming
New Spaceport has Public Viewing and a Space
Theme Park: China pushes towards its future
in Space
UK astronaut Tim Peake arrives back on Earth
after the 'best ride I've been on ever' aboard a
Russian Soyuz capsule.
May 2016
Mercury Seen Crossing the Sun:
start: 12.13 finish: 7.40pm
BE SAFE - NEVER LOOK DIRECTLY INTO THE SUN !!
Credit: ESA/Rosetta/NavCam – CC BY-SA IGO 3.0
Organic molecules identified on Comet 
67P / Churyumov-Gerasimenko by Rosetta show
that comets have potential to deliver molecules
needed to establish life on Earth.
Nasa's Solar Dynamic Observatory
Image credit: NASA / SDO
Coronal holes are low-density regions in the solar
atmosphere with lower temperatures than their
surroundings. Coronal holes are visible in extreme
ultraviolet light. Find out more here...
April 2016
Russia's New Vostochny Cosmodrome:
Photo: Roscosmos. Liftoff of Soyuz-2.1a at the newly built Vostochny Cosmodrome
Russia launched its first rocket from the new
Vostochny cosmodrome outside the city of
Uglegorsk - Russia's far east. Roscosmos plans
two launches from the new site next year and
six to eight launches in 2018.
Ancient 'Uncooked' Asteroid May Be
Building Block of Early Planets
Image credit:  ESO/M. Kornmesser
Artist's impression of unique object C/2014 S3 (PANSTARRS)
Scientists at the University of Hawaii conclude
the asteroid above is probably made of 'fresh
inner Solar System material' stored in the Oort
Cloud and recently nudged back into the inner
Solar System.
Lead author Karen Meech said:
'This one is the first uncooked asteroid we
could observe: it has been preserved in the
best freezer there is.'
Steering An 'Earth Rover' From Orbit
Image: ESA
Astronaut Tim Peake has successfully steered
a rover robot on Earth from orbit: 250 miles up,
in the International Space Station. Future
astronauts may use the technique to steer Mars
Rovers whilst orbiting the 'Red Planet'
'Weasel' Knocks out CERN Collider
Image: Large Hadron Collider in its tunnel at CERN
The Large Hadron Collider (LHC) was halted
recently, due to 'technical issues': a close
encounter between 'a weasel' and
a 66 kilovolt transformer inside an electrical
facility outside the main building. The animal,
which was actually a beech marten, did
not survive: The LHC will be back in action
within a few days
Image: Getty Images -  Stone Marten or Beech Marten
Image credit: NASA, JPL
Amateur astronomers in Ireland and Austria 
film an object colliding with Jupiter on
17 March, independently of each other. The
collision can be seen as a pinprick of light
and  was only noticed when reviewing 
the footage much later.
5 Year Project Studies Effect of
Space 'Stress' on the Immune System
Spacestation at Night  Image credit: ESA
The five year study found that Astronauts'
immune systems could over-react to threats
that would have only a small effect on Earth.
A side benefit of the project: researchers
developed new ways of analysing small
quantities of blood. "Our methods would
interest doctors that care for newborns,
who have little blood to give for analysis,"
(Prof. Alexander Choukèr, lead investigator)
Scientists from the Cassini mission have
identified the highest point on Saturn's largest
moon, Titan. Titan's tall mountains suggest that
tectonic forces could be affecting the surface of
Saturn's icy moon. "As explorers, we're
motivated to find the highest or deepest places,
partly because it's exciting. But Titan's extremes
also tell us important things about forces
affecting its evolution," (Jani Radebaugh,
Cassini associate who led the research)
March 2016
The ExoMars Orbiter will arrive at Mars next
October to hunt for methane gas emissions,
which could indicate possible life earlier in
Martian history. Dr Patel from the Open
University is co-Principal Investigator for
NOMAD, one of the instruments on board.
Image credit: NASA, JPL
Amateur astronomers in Ireland and Austria 
film an object colliding with Jupiter on
17 March, independently of each other. The
collision can be seen as a pinprick of light
and  was only noticed when reviewing 
the footage much later.
5 Year Project Studies Effect of
Space 'Stress' on the Immune System
Spacestation at Night  Image credit: ESA
The five year study found that Astronauts'
immune systems could over-react to threats
that would have only a small effect on Earth.
A side benefit of the project: researchers
developed new ways of analysing small
quantities of blood. "Our methods would
interest doctors that care for newborns,
who have little blood to give for analysis,"
(Prof. Alexander Choukèr, lead investigator)
First Tomatoes and Peas Harvested
on Mars and Moon Soil Simulant
Researchers in the Netherlands have
successfully grown and harvested 10 different
crops in Mars and Moon soil simulants. The goal
of the experiments is to provide the basis for
growing crops on Mars and on the moon, in
order to feed the first settlers.
No Caverns Inside Rosetta's Comet
Image credit: ESA
There are no large caverns inside Comet 67P /
Churyumov-Gerasimenko. Measurements from
ESA's Rosetta mission clearly demonstrate this,
solving a long-standing mystery.
February 2016
Image credit: NASA / C. Gunn
The final segment of the James Webb Space
Telescope's primary mirror has been installed.
The telescope is an international project by
NASA, ESA and the Canadian Space Agency,
due to launch in 2018.
Noodle, Lasagne or Hazelnut shaped
Image Credit: The COBE Project, DIRBE, NASA
Invisible structures in our galaxy could radically
challenge our understanding of gas conditions
in the Milky Way according to new research
using the CSIRO Compact Array in Eastern
Australia. The geometry has yet to be
determined, but Scientists suggested they
'could be looking at a flat sheet, edge on,
down the barrel of a hollow cylinder or at a
spherical shell like a hazelnut.'
Mouldy Plants in Space: An Opportunity
What may seem like a failure is an 'opportunity' for
scientists to better understand how plants grow in
microgravity and for astronauts to practice
autonomous gardening.
Image: A predicted consequence of Planet Nine is that a second set of
confined objects should also exist. These objects are forced into positions
at right angles to Planet Nine and into orbits that are perpendicular to the
plane of the solar system. Five known objects (blue) fit this prediction.
Credit: Caltech/R. Hurt (IPAC)
Caltech researchers have found evidence of a
giant planet in the outer solar system, nicknamed
Planet Nine. The object has a mass10 times greater
than Earth and orbits around 20 times farther from
the Sun than Neptune. The orbit is highly eliptical
and would take between 10,000 and 20,000 years.
Citizen Science Projects 'reap major
29 gravitational lens candidates found through Space Warps.
The astrophysics project Space Warps shows why citizen
science has become such a popular tool and how valuable
the input of "citizen scientists" who donate their time and
effort to science can be. Last year, they identified  29 new
gravitational lens candidates plus a never-before-seen
lensing scenario that looks like a red ring in the project's
image archive.
Van Allen Probes Revolutionise
Image credits: JHU/APL

Since the 1950s, our understanding of then Van Allen
Belt has remained  largely unchanged. A new study of
data from NASA's Van Allen Probes reveals that

"The shape of the belts is actually quite different
depending on what type of electron you're looking at"
January 2016
Proposed Missions to Seek Life
Credit: ESA
Does anything live in the seas of Enceladus? Two
proposed missions hope to search for life more
directly. More details can be found here.
Apollo Rocket Impact Site Found
The impact crater - Mare Insularum.
Credit NASA/Goddard/Arizona State University
NASA spacecraft Lunar Reconnaissance Orbiter has found
the lunar crater caused by part of a rocket from the
Apollo 16 mission to the Moon. The impact crater is 40m
wide and about 260 km southwest of the Copernicus Crater,
a prominent feature on the near side of the Moon.
Credit: Planetary Resources
'Asteroid Mining Company' Planetary Resources, which
aims to extract water and other useful materials from
asteroids, has 3D-printed an object using metal powder
gleaned from a space rock. Last July, the company
deployed a  tiny cubesat from the ISS last July to test
avionics, software and key technology needed for  future
asteroid-mining probes.
UK school children will be given the chance to speak to
UK astronaut Tim Peak live on the ISS - via amateur radio.
The prearranged school contacts in January 2016 will allow
students to ask questions directly to Tim using amateur radio
equipment specially installed at the school for the occasion.
By the way, Tim's callsign will be KG5BVI
On 15 December British ESA Astronaut Tim Peake will blast
off from Earth on his way to the ISS along with colleagues
Tim Kopra (NASA) and Cosmonaut Commander
Yuri Malenchenko. The UK Space Agency will bring news
of all the related activities, updates on the mission and info on
how to get involved with Mission Principia.